HTB Rejuvenate®
Bring your immune system into rhythm with the raw strength of nature.
A custom blend of phytonutrients that naturally occur in Himalayan Tartary Buckwheat (HTB), an ancient plant with powerful immune-restoring properties. High levels of polyphenols work to undo cellular stress and rejuvenate systems throughout the body.*

Stronger immune performance*

Helps fight oxidative stress for cell health*

Helps promote mental clarity*

2 month supply
Deliver Every 2 Months (Save 15%)
You can edit, skip, reschedule and cancel subscription anytime.
What are the health benefits?
Key Ingredients

Himalayan Tartary Buckwheat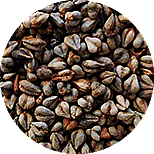 2-HOBA
Chlorophyllin
Quercetin, Rutin, Hesperidin, and Luteolin
D-chiro-inositol
"HTB Rejuvenate is the strongest support I can give my immune system. It's a cornerstone in my routine for healthy aging, and I feel great taking it."