Recipe
Chef Lee's creamy mushroom crêpes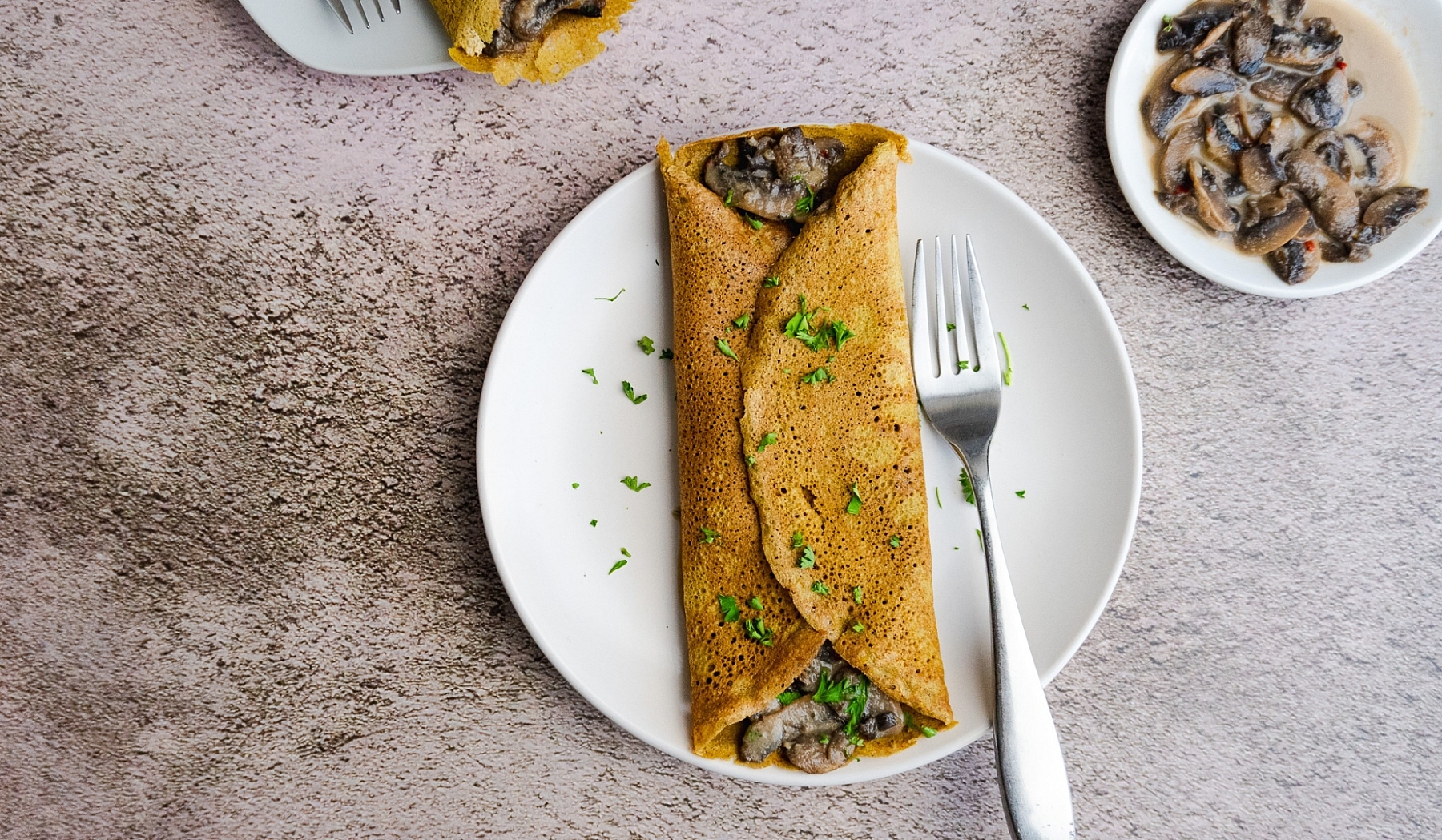 Here's another savory treat from Chef Lee over at Course 784. This recipe features our Himalayan Tartary Buckwheat Flour in a nutritious crêpe with a creamy mushroom filling.
You could also use these grain-free, gluten-free crêpes for rolling up a creamy baked seafood recipe, or for veggies, or for wraps both savory and sweet.
Our thanks to Chef Lee for making healthy taste so good!
Chef Lee's HTB crêpes with creamy mushroom filling
Serves 4, makes 12 crêpes
Cook time 10 minutes
INGREDIENTS
For HTB crêpes:
½ cup Himalayan Tartary Buckwheat Flour
2 eggs
1 tsp baking powder

1 tsp salt
1 cup milk, or plant-based milk
Pinch of sea salt
1-½ tsp olive oil, plus more for griddling

For mushroom filling:
1 Tbsp olive oil
2 packs 12-oz mushrooms, any variety of your choice
2 cloves garlic, minced
Pinch of red pepper flakes
¼ tsp garlic powder
1 cup heavy cream, use coconut milk or oat milk if vegan
½ tsp salt
Pinch of black pepper
Handful of fresh parsley, roughly chopped

METHOD
For HTB crêpes:
Combine all ingredients in a blender and stir slightly, just to moisten the dry ingredients. Blend thoroughly into a thin, smooth batter.

Onto a lightly oiled skillet or crêpe pan, pour 1⁄4 cup of the batter and tilt the pan to spread the batter evenly into a sheer round, about 10 inches in diameter.

Griddle over medium-high heat for about 5-6 minutes or until the edges curl up a bit, the top is set (dry), and the bottom is lightly golden-browned.

Re-blend the batter briefly before pouring each crêpe.
For mushroom filling:
Heat the oil in a skillet over medium heat. Add the mushrooms and sauté for 5-8 minutes until lightly browned and the liquid has evaporated.

Add the garlic and red pepper flakes and sauté for 30 seconds. Pour in the heavy cream and season with garlic powder, salt and pepper. Stir to combine and allow the mushroom mixture to simmer for 5 minutes until slightly thickened. Turn off the heat and spoon over the French-style HTB crêpes.