Recipe
Michelle's air-fried corn & HTB empanadas
I learned how to make empanadas in a cooking class in Costa Rica, where they're a common street food with a variety of different fillings (mostly meat and cheese). I loved adapting this recipe to include HTB flour, veggies and tofu for filling, and air frying instead of pan-frying in oil. The outcome is a much healthier version of empanadas that still taste great and are very portable for lunch on the go.

Michelle's Air-Fried Corn & HTB Empanadas
Makes 6 empanadas
Cook time ~20 minutes

INGREDIENTS
Filling:
2 teaspoons olive oil
1 small white or yellow onion, thinly sliced
1 red bell pepper, cored and thinly sliced
6 shiitake mushrooms, chopped
½ teaspoon salt
8 ounces extra firm tofu, drained and crumbled
1 packet Frontera classic fajita skillet sauce (or your favorite fajita sauce)
Tortillas:
1 cup masa harina (corn flour)
½ cup HTB flour
1 teaspoon salt
2/3 – ¾ cup warm water
1 tablespoon avocado oil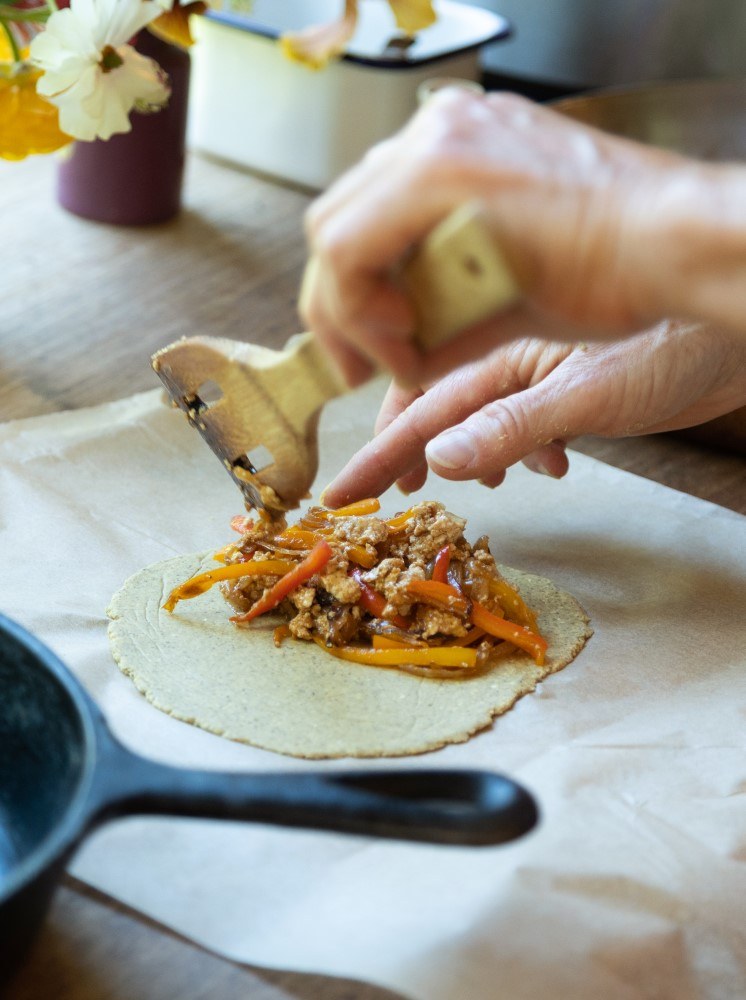 METHOD
In a medium-size skillet, add olive oil and turn heat to medium-high. Add onions and sauté for about 2 minutes, until they start to soften. Add peppers, mushrooms, and salt and continue to sauté for another 2 minutes. Stir in crumbled tofu and slowly add skillet sauce. Remove from heat and set aside.
In a medium mixing bowl, combine masa harina, HTB flour, and salt. Slowly add 2/3 cup water while mixing with a fork. Dough will be crumbly. Knead the dough with your hands, adding the remaining water if necessary to form a dough ball.
Separate the dough into 6 small dough balls that are just slightly larger than golf balls. Roll each ball between your hands until smooth.
Cut a piece of parchment so that it will fit in a tortilla press, making sure it is long enough to fold over the top of the tortilla. Place the parchment on the bottom of the press, center one of the dough balls on the parchment, fold the parchment over the top of the dough ball, and press firmly. If you don't have a tortilla press, use a heavy object, like a cast iron skillet, to press the dough. Unfold the parchment, add filling in the bottom 1/3 of the tortilla, fold the dough over and press edges together so there are no gaps. Lightly brush the tops of the empanadas with avocado oil.
Transfer to the air fryer and set the temperature at 375 degrees and the time for 20 minutes (check them midway through and see if they're starting to brown).
OTHER EMPANADA FILLING IDEAS:
Onions, peppers, mushrooms, tomatoes, vegan crumbles (e.g. Beyond Beef)
Ground meat, onions, peppers, and cheese
Ground pork, egg, and olives
Black beans, taco meat, cheese